Audio Visual System Design for Educational Excellence
Proper audio visual system design is vital to ensuring that your message gets across, loud and clear. This is particularly important in educational venues, where there are many things competing for the attention of students. When you have an important announcement to make, you don't want a poorly-functioning paging system to distract from the message. When your students are staging their dramatic or musical performances after weeks of preparation, you want everything to look and sound great. With help from the experts at Avant Acoustics, you can be certain that your audience will focus on your event, not on technical difficulties.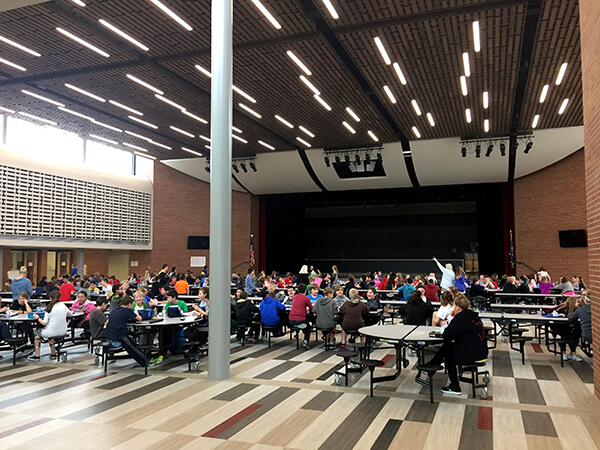 Avant Acoustics has over fifty years of audio visual system design experience including the design, installation and testing of top quality audio-visual systems in buildings of all shapes and sizes. Our work in K-12 education includes classrooms, auditoriums, meeting spaces, stadiums and much more. We are experts in the art and science of 
acoustics
, and pride ourselves on our holistic approach to audio visual system design. We will examine all parts of your AV system to make sure everything is working as designed, with the highest quality possible. Whether installing a new system or upgrading an existing one, we provide the most complete specifications, drawings and 
system commissioning 
services you can find anywhere. That means that even with lowest-bid-award contracting, you can be confident that you will receive the best installation, testing and execution of your AV system project.
One K-12 project that really showcased our approach was an update to the audio visual systems at Maize Middle School. The school underwent an expansion and remodeling project due to increases in enrollment. As part of that work, we provide audio visual system design services and consulting for their new cafetorium. This multi-purpose space is used daily as a cafeteria, and intermittently as a meeting and performance space. We provided the following services:
Room acoustics consultation
Audio-visual and sound reinforcement systems design
On-site system commissioning including operator training and assistance during the first use
As part of the 
Avant Advantage
, we worked hand in hand with school staff to understand how they use their audio visual systems and to ensure that they understood how to use their new/updated systems. After all, a brand-new system isn't much good if those using it cannot do so successfully and with ease!
Avant Acoustics proudly serves clients across the U.S. and around the world in education, healthcare, sports, music and business environments. From Kansas City to Boston to Los Angeles, no matter the size of your project, we will be proud to work with your school or district to address any audio visual needs you have.  Give us a call at (913) 888-9111 or contact us 
online
 to schedule a visit. . We look forward to working with you!