Steerable Line Array Loudspeakers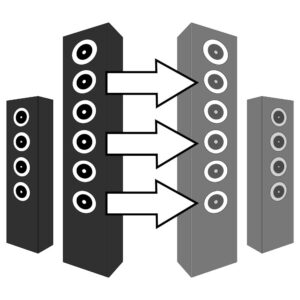 STEERABLE LINE ARRAY LOUDSPEAKERS are a very useful tool for any sound system designer; they can make sound reinforcement systems almost disappear into the architecture of a space while providing high intelligibility in challenging spaces.
There are many products in the marketplace, most of which are for speech reproduction, while others can handle the higher demands of performance spaces and even concerts. Choosing and implementing the right product in any given space requires expertise and hands-on knowledge that AVANT ACOUSTICS can provide.
AVANT has been implementing steerable line arrays in many different venues for several years and we are well versed in the advantages and drawbacks.  We ensure that this is the right solution for our clients; meeting and exceeding the performance expectations of the owner while maintaining the aesthetics of the architect's design.
Can you spot all the loudspeakers in the picture below? Click here to see the Sacramento International Airport project profile.