How to Choose an Acoustical Consultant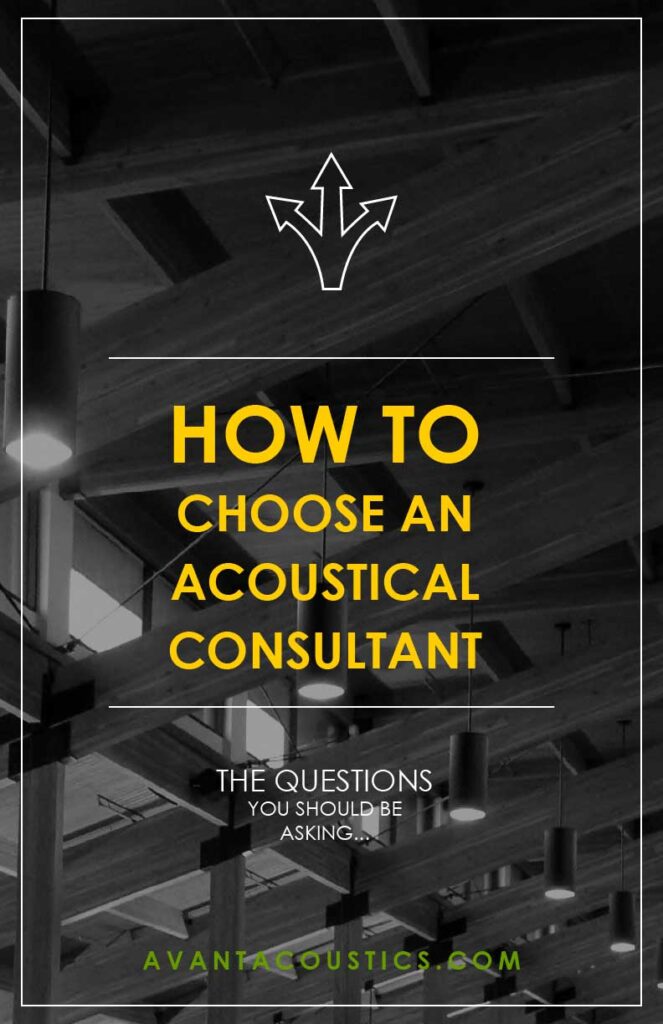 Choosing an acoustical consultant should not be taken lightly.  The capabilities and experience of the firm can make or break the success of your project.  At AVANT ACOUSTICS, we're commonly called in when another firm has made costly mistakes. We've even encountered other firms going out of business or filing bankruptcy during a project!  With that in mind, architects, owners, and engineers need to do their due diligence prior to selecting their partner in acoustics.
Here are the questions you need to ask before selecting your acoustical consultant:
How experienced is the acoustical consultant working on my project?
It doesn't matter if the firm has a few principles with years and years of experience; if the project manager for your project is inexperienced there are going to be issues.  That project manager is going to be "learning" on your project… which means even though their billable rate is probably less, the final project cost may be more.  If the acoustical consultant is new to the industry, they are more likely to make mistakes or overlook what may be obvious to a seasoned veteran.  AVANT ACOUSTICS' consultants have an average tenure of 15 years, with project managers averaging 17 years.  All associates are provided close supervision by experienced project managers until their experience and capabilities warrant taking on their own projects.
Does the firm invest in continuing education?
AVANT ACOUSTICS firmly believes that not only should an acoustical consultant be experienced, he or she must also be up to date on new technologies and developments in acoustics.  While the physics behind acoustics is not changing, our understanding and tools available to treat room acoustics and noise control are improving every day.  Especially when it comes to Audio-Visual, Sound Reinforcement, and Paging Designs… technology is advancing as fast as ever.  AVANT ACOUSTICS ensures that each consultant gets adequate exposure to new technology and ideas and facilitates sharing this information within the firm among consultants.
Has the firm done projects similar to the one you have?
Just because a firm is well experienced and established, doesn't mean that they are prepared to take on your project.  The acoustical and design requirements for a church, for example, are totally different than that of a meeting room or an arena.  The same way you wouldn't want to be surgeon's first open heart surgery, you don't want your project to be the consultant's first either.  AVANT ACOUSTICS is well versed in nearly every type of space… we have designed many airports, convention centers, arenas, stadiums, auditoriums, operation centers, schools, offices, hotels, and restaurants (just to name a few).
How long has the firm been in business? Is the firm growing, shrinking or staying the same? What is the firm's credit rating?
These three questions are grouped together because they're all getting at the same thing.  Will the firm still be in business through the term of the project… and thereafter if issues arise?  If the firm is very new, not growing, or has a poor credit rating… these are all signs that their future may be in jeopardy.  Having been in business for over 50 years, AVANT ACOUSTICS' staff has seen many other acoustical consultancies come and go.  Don't risk it… go with a firm that is here to stay!