Audio Visual Consultants for Higher Education
The Audio Visual Consultants at Avant Acoustics are experts who are dedicated to making sure your business or organization's AV systems are operating at peak performance. With over a half-century of experience providing top-quality AV equipment and services in Kansas City and across the nation, we have the knowledge to help you impress audiences with your message.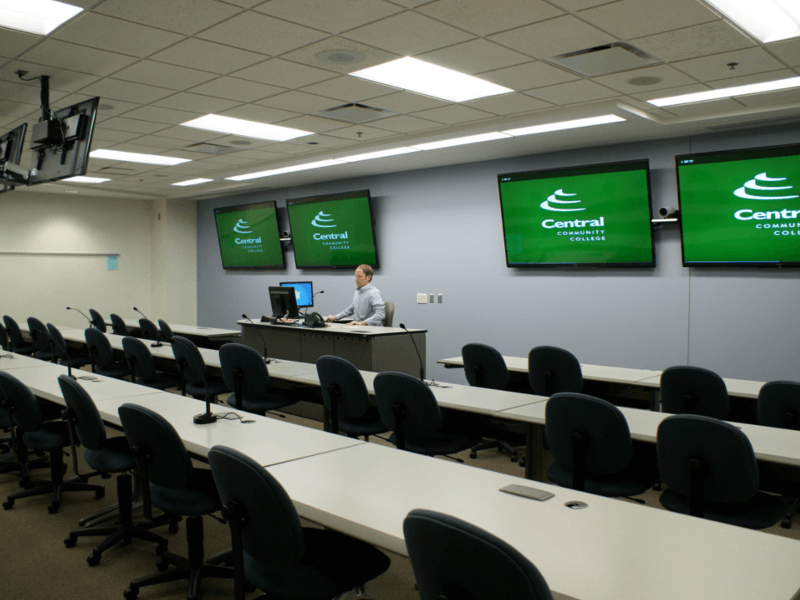 We serve clients in a wide variety of spheres, but some of our proudest achievements have been in the world of 
higher education
. The days of a college class being led by a professor with a lectern and a chalkboard are long gone. In higher education today, audio visual design and acoustical consulting are cornerstones to active learning environments. Students, parents and educational organizations expect the latest in classroom 
technology
, including sound reinforcement, AV presentation, lecture capture, and streaming systems. Avant Acoustics' audio visual consultants understand the needs of today's 
technologically sophisticated
 campuses. Project after project, we work hard to help educators and architects meet expectations.
Not only do our systems provide optimal sights and sounds, they are also user-friendly. We work with our clients to understand how they will use the AV system, in order to custom design the user experience, including touch panel layouts. As audio visual consultants, we work hard to ensure that our clients understand exactly what they are getting, and that the products they receive are tuned to their optimal performance level. During the design phase, we provide some of the most complete specifications and drawings in the business. When your project is complete, we will conduct thorough system commissioning to make sure that the most up-to-date software is in place, and that each and every component is working to its full capabilities. Not only that, but we will train your staff so that they understand how to operate and maintain the new equipment. We want all of our clients to be happy they chose the 
Avant Advantage.
We have experience with all aspects of education including lecture halls, distance learning environments and fine arts venues. In fact, Avant worked on designs for most of the larger Kansas City Metro school districts in both Kansas and Missouri on AV and acoustic designs. A particular highlight was the music campus for Grain Valley High School.
From Boston to Los Angeles or anywhere in between, if your higher education institution, business or organization is ready to experience the learning power and convenience of a top performing audio visual system, contact the audio visual consultants at Avant Acoustics. You can call us at (913) 888-9111 or fill out our online contact form. We look forward to working with you.