Audio Visual Consultant: AVANT Acoustics' Spotlight Lands on Robert Ledo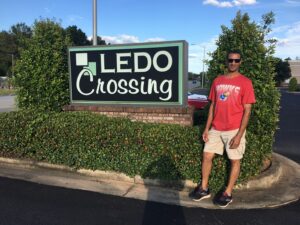 The audio and audio visual consultant team here at AVANT Acoustics are the 
heart of the business
. That's why we want to take time each month to place a spotlight on specific employees to help you get to know them. This month our highlight features our Senior Vice President of the company, Robert G. Ledo.
Bob has 30 years as an audio visual consultant assisting clients with design and enthusiastic project leadership. Bob's skill and knowledge in the field as well as his ability to successfully run a team is a large part of how AVANT Acoustics has maintained their leadership position in the industry. 
Through his experience, Bob has learned that successful leadership comes from having a strong sense of loyalty, fairness, and respect for and towards those he works with. These values have allowed him to build a consensus towards shared goals in turing out great work.
Some of Bob's projects include:
BOK Center – Tulsa, Oklahoma
Hy-Vee Conference Center – West Del Moines, Iowa
Mayo Civic Center – Rochester, Minnesota
Von Braun Center – Huntsville, Alabama
His favorite project to date is without a doubt the twelve NCAA men's Final Four basketball tournament events which he has worked on. While he's proud of AVANT's contributions to the fan experience, he also has relished in the chance to watch his favorite team win their latest national championship in person. Rock Chalk, Jayhawk!
Bob's job as the Senior Vice President of AVANT Acoustics requires him to be an active participant in the audio visual consultant process, needing him involved in the design, testing, and commissioning of our audio-visual and sound reinforcement systems. This job involves traveling to various types of facilities. Bob visits locations throughout the United States as well as Germany, Japan, and Korea.
Bob's time with AVANT has given him a level of institutional knowledge that he can call upon and share with the members of his team. This is especially true in the area of sound reinforcement system design for large audience spaces such as arenas, stadiums, auditoriums, and convention halls.
Bob looks to Theodore Roosevelt's words, "speak softly and carry a big stick" to shape how he approaches leadership. Balancing great strength with subtlety in diplomacy is what he aspires for in his leadership methods.
Bob went to 
Oral Roberts University
 in Tulsa, Oklahoma. There, he completed a double major in telecommunications and business. Both of these disciplines would help him greatly in his career as an audio visual consultant. Since graduating from the school, he has begun serving as a guest lecturer for classes in digital audio. 
When not working on designing or testing a system, Bob likes to attend KU games, sail, fly, or even run the occasional marathon. Bob lives in Olathe, Kansas with his wife and their dog, Piper. Piper helps Bob get up and running in the morning no matter what the weather outside is like. He and his wife like to explore the back roads in search of hidden gems.
If you need an audio visual consultant, we have a qualified and experienced team at AVANT Acoustics that can handle the job. Whether the project is a hospital in Chicago or a hotel in Nashville, we can help with any project anywhere in the world. Call us at (913) 888-9111 or 
click here
 to contact us online.