Acoustical Consulting From AVANT Helped Make the Mark Arts Building
AVANT Acoustics had the pleasure of providing acoustical consulting services to the construction of the new Mark Arts building in Wichita, Kansas. This new 40,000-square-foot building features nine studios and a great hall for special events. We want to take this chance to place the spotlight on one of our recent acoustical consulting projects.
The Mark Arts Building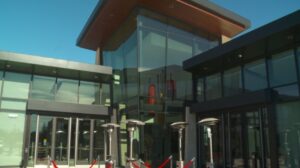 From kake.com, "Mark Arts is named after Liz Koch's mother-in-law, Mary Robinson Koch, who had a passion for the arts.". Construction of the facility was funded by private donations, as well as the Koch family and various foundations. The nine studios in the Mark Arts center include studios for culinary arts, digital arts, a gallery for national exhibitions, an outdoor sculpture garden, and a studio specifically for use by youth artists. If you're interested in what the building has to offer you, click here.
AVANT's Contribution
For this project, AVANT ACOUSTICS provided acoustical consulting to help with room acoustics, architectural noise control, mechanical noise control and system commissioning. Our team worked on the event space and the gallery.
Our acoustical consulting team collaborated with designers from Alloy Architecture to create acoustical solutions for the project's unique architecture. We like teaming up with Alloy on projects all around the region. The gallery has a lot of exterior glass, which made it more challenging to include acoustical treatments in the room. Our team was able to angle the exterior glass walls to prevent flutter echo and include a center section of stretched membrane acoustical ceiling. This led to a room that works very well acoustically.
If you have a construction project in need of acoustical consulting, AVANT Acoustics is here for all your acoustic needs. We have over 50 years of experience and are confident we can help with any project. Call us today at (913) 888-9111 or contact us online to begin consultation.