Acoustic Consultant Spotlight: Edouard G. Charland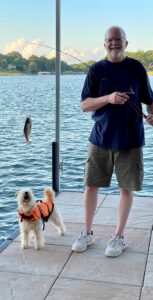 The AVANT Acoustics Acoustic Consultant spotlight this month is on Edouard G. Charland. Ed is a Vice President with AVANT and has extensive experience as a project manager with AVANT Acoustics who specializes in complex audio communication (paging) systems for aviation and other transportation applications. We asked Ed some questions to help you get to know our team, here's a summary of our conversation. 
Leadership
Ed believes effective leadership means setting an example for your team. Leaders should demonstrate the work, quality, ethics, responsiveness, and respect they wish to see from others. They should be good listeners in order to understand the problems and needs of clients and the team.
While he doesn't have a specific individual favorite leader, Ed follows the concept of the captain position on a sports team. A captain is often one of the most skilled players on the team while also excelling at bringing the best out of the other players on the team. A captain's skill is also complimented by their situational awareness and experience. Like a good captain, a good leader understands the customer, the competition, and the team, while working to achieve success.

Contributions to the AVANT ACOUSTICS team
Ed looks at problems and challenges through a different lens. He strives to think of different and new approaches to the specific needs of any given project. Ed thinks it's best to navigate situations while imagining the perspective of others. As an acoustic consultant, Ed treats clients as he would like to be treated in their position and makes sure to listen to their concerns and input.
Ed believes the AVANT Advantage is the team's genuine interest in the specialized fields of acoustics and AV design. This results in a desire to provide the high-quality services required to produce facilities, systems, and events that support excellent acoustical and audio-visual experiences.
Ed has worked on many interesting and rewarding projects over the years. A favorite memory is hearing music being played on the sound system AVANT designed at the former Kiel Arena while watching Wayne Gretzky skate for the St. Louis Blues. But the most memorable are the international projects from his early years. Providing acoustic consultant services while experiencing the lifestyle, traditions, and food of other cultures was a treat.
Outside of AVANT ACOUSTICS
Ed loves spending time with his family, especially now that his children are grown and on their own. He and his wife recently built a new home on a lake, which helps bring their family back together for visits. With their Lakeland Terrier dog, Ed and his family are enjoying all that comes with "lake life" – watching wildlife, boating, fishing, and having a glass of wine while looking out over the water (well, the dog doesn't drink). These are some of his favorite activities at the lake. They enjoy cheering on their favorite KC and STL sports teams. Ed also loves music, playing the guitar, and recording. He says he's "gearing up for my next gig in life!".
If you need an acoustic consultant team led by a manager like Ed. AVANT Acoustics is here to optimize the sound of your building. Call us at (913) 888-9111 to begin consulting or click here to fill out our online contact form. Start experiencing the AVANT Advantage today!
To learn more about Ed and connect with him please visit AVANT ACOUSTICS – Edouard G. Charland.