Community Center AV Design
Over the last several years, community centers seem to have popped up everywhere. A good community center includes recreation facilities, such as pools and gyms, as well as spaces to hold meetings, parties, and other events. Many people don't think about the technology vital to these projects, but having a well-designed community center AV system greatly impacts the usability and popularity of the facility.
Learn more about what our consultants did to make sure a community center AV system checked all the boxes!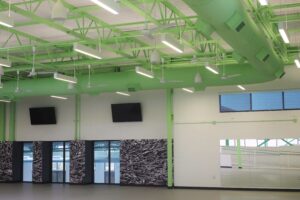 Paging and Background Music
AVANT ACOUSTICS recently completed work on the new Excelsior Springs Community Center, outside Kansas City, Missouri. Not surprisingly, this community center required a quality paging and background music system.  Our consultants' understanding of the art of sound and acoustics combined with the technical know-how ensured this system had ideal loudspeaker coverage, and sounded great.  We spent the extra time on site that ensured systems were tuned to the environment for maximum performance.
AV for Events
Our Excelsior Springs Community Center AV systems design also includes public area televisions (see photo), and a system for the center's community rooms capable of supporting a wide variety of events, from weddings to meetings to birthday parties.
To meet these diverse requirements, the system supports important features like a wireless microphone system, touchpanel controls, and audio inputs so that people can easily plug their smartphones or other devices into the system.
Premium Community Center AV Systems
We don't just do community centers great; our consultants can also custom design premium AV designs for you. At the Excelsior Springs Community Center, for instance, AVANT ACOUSTICS created a system in the aerobics room to project high-definition Fitness On Demand content onto a 119-inch flush-mounted screen. 
Want to know what we can do for your project? Let's talk!