Audio Visual Systems To Make Your Message Loud and Clear
Audio visual systems are such a normal part of everyday life that we don't often think about them. That is, until they don't work properly! There is nothing worse than getting up in front of a group of colleagues to speak, only to find that the audio visual system is malfunctioning. No one wants to struggle to keep an audience engaged while the technical staff scurries to fix the problem. That's why Avant Acoustics offers specialized services to keep your AV systems tuned up and working properly from the point of install and for years to come.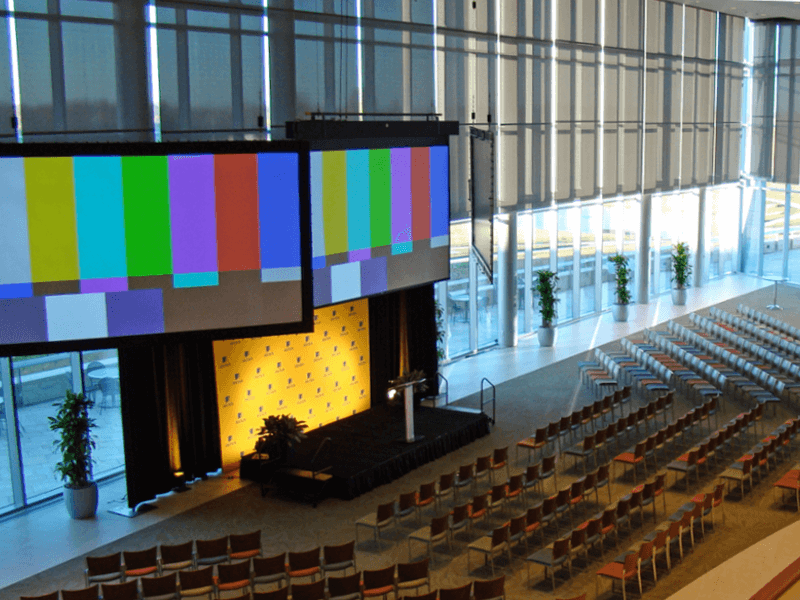 Today's audio visual systems aren't like the ones you used in the AV club in high school. Sound and projection systems, as well as the computer components required to make them run, are more complex than ever. Not only that but acoustics – the art and science of managing sound  within spaces – requires years of education and practice to master. Whether you are presenting a lesson in a
classroom,
 preaching a sermon in a 
church
, or speaking to a 
convention center
 full of conference attendees, Avant Acoustics has the expertise to ensure that your systems work their best. Our goal is to make your presentations look and sound amazing!
You might be asking yourself "What's the big deal? We hired a contractor and they installed our systems. Don't they know what they are doing?" The unfortunate answer is 
sometimes no
. Most builders don't have expertise in the setup and operation of audio visual systems. Even a contractor who follows the manufacturer's installation instructions won't have the knowledge to commission the system properly.  
Commissioning 
refers to the process of analyzing an audio or visual system, testing each component and function, and making sure that everything is operating to its full potential. Clients are often surprised at how long and painstaking this work is, as it often takes several days or even weeks! Some things that Avant's acoustics professionals look for when commissioning include:
Improperly wired, rattling, or dead loudspeakers
Damaged or missing network cables
Misconfigured components 
Components with outdated firmware
Improperly terminated wires on audio cables
Missing or wrongly-configured equipment
Malfunctioning monitors or control panels
Even contractors who thoroughly test their systems can miss things. Our team often hears from clients and installers who are grateful that we found things they missed. As one contractor put it, "A second set of eyes is always a good idea."
Audio visual systems represent a considerable investment for most organizations. You've spent the money to get a great system, why not make sure it is operating correctly and to full capacity? At Avant Acoustics, we take on all kinds of commercial jobs, big and small. We have services to meet any situation and budget. If you have had a new system installed and want to make sure it's ready for opening day, or if your existing system is giving you problems, 
contact 
us at (913) 888-9111. We offer services in the Greater Kansas City area, across the United States and around the world! We look forward to helping you get the most out of your audio visual systems investment.