ACOUSTICAL CONSULTING: THE JOHNSON COUNTY LIBRARY AT LENEXA CITY CENTER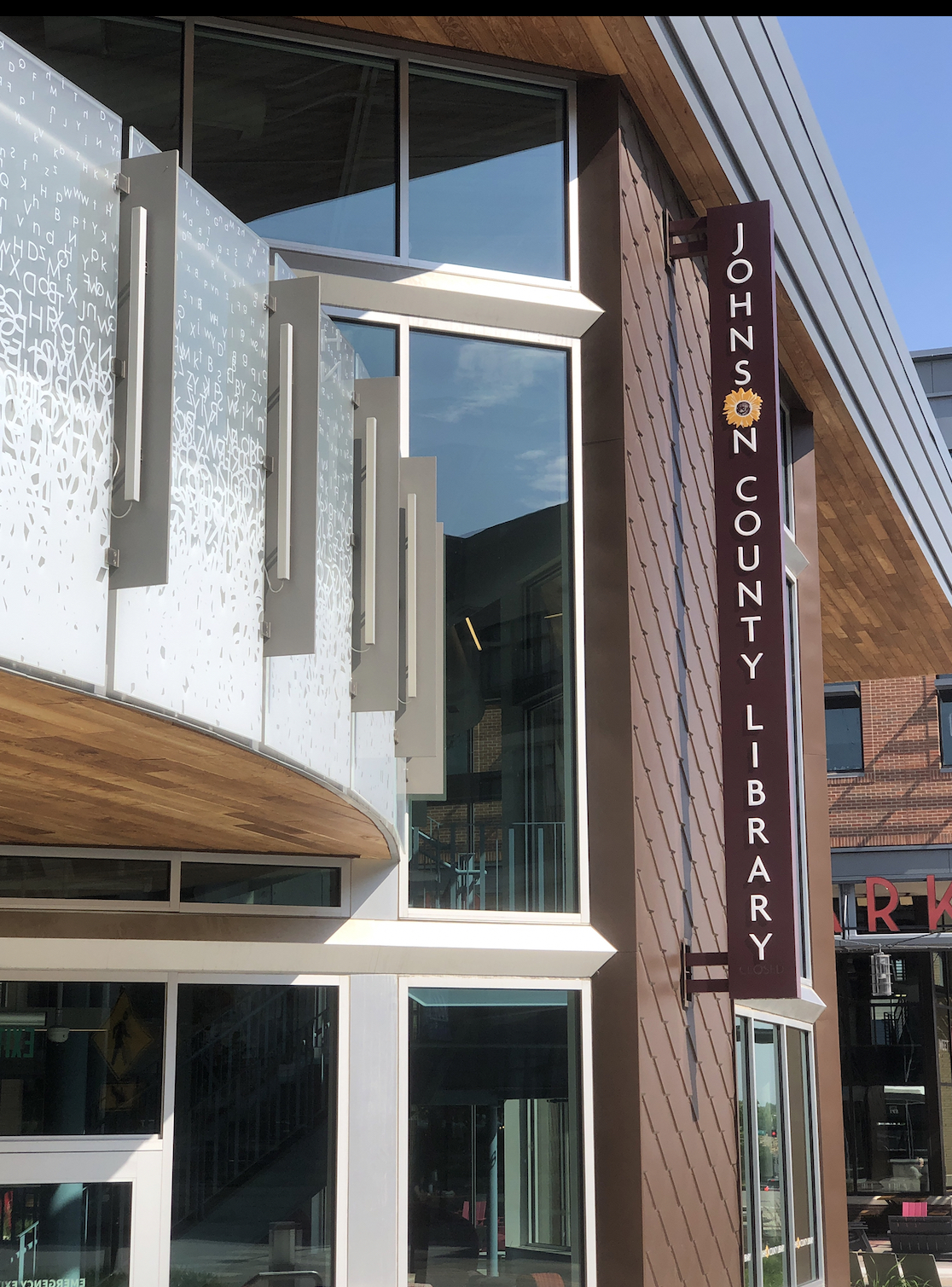 AVANT ACOUSTICS designed the Audio-Visual systems and Acoustical aspects of the Library located in Lenexa City Center. Because the library was part of the overall development of the relocation of downtown Lenexa, it is the center focus which is connected to many other facilities, including City Hall, a great food hall and shopping. There was a lot of excitement for the project in the community since it provides a much-needed resource to people of all ages.
The AVANT team for this project included four Senior Associates Jill Elmers, project manager; Emily Jaumard, acoustics; and Andrew VonFeldt and David Wetzel, AV design.
ACOUSTICAL CONSULTING & DESIGN
AVANT provided room acoustics consultation to establish proper acoustical characteristics for the spaces within the building. This included recommendations relating to the selection of interior surface shapes, finish materials, seating, and other design considerations.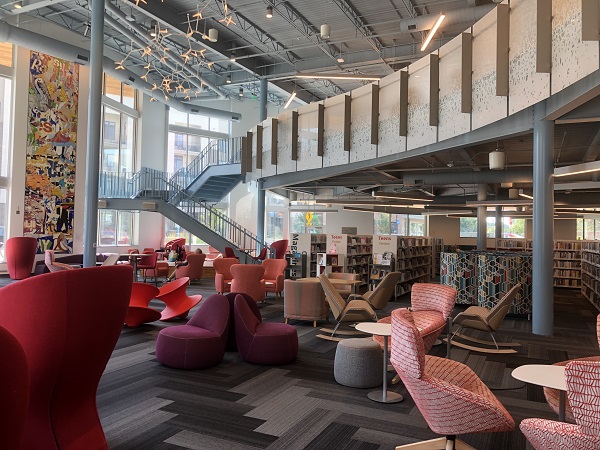 Emily Jaumard, our acoustics design expert, explains that "working with interiors in material finish and some furniture selection to come up with creative and beautiful solutions was my favorite part of this project."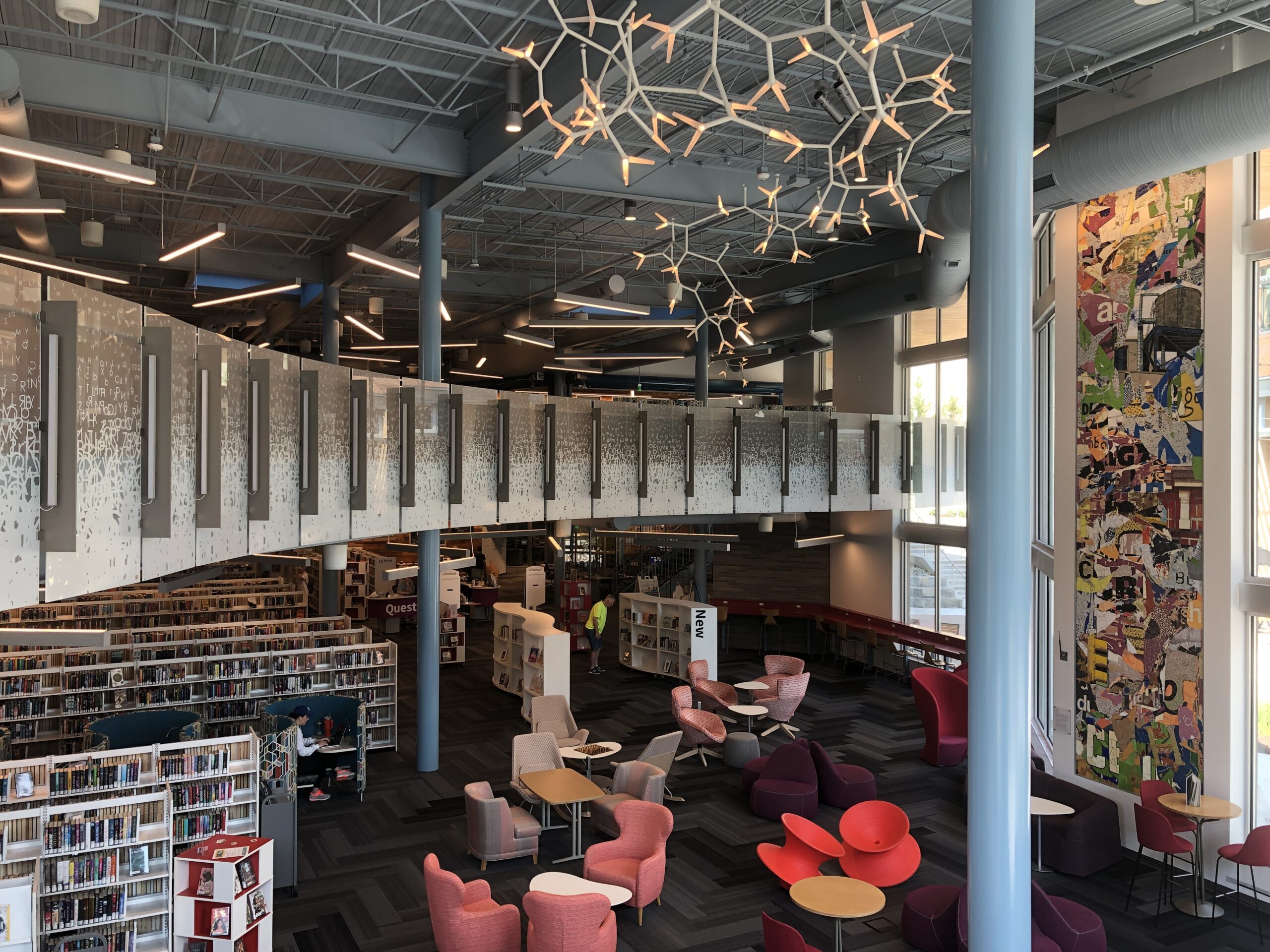 Emily added, "The double height space was the biggest challenge, since this space can be used for seating or reorganized for meetings and presentations."
Her recommendation was to leverage the curving banister at the level above to provide sound absorption, "Since most of the other wall surfaces are either glass or open to the library beyond," and to block sound coming from the children's area above, therefore enhancing that space with sound reinforcement that didn't spread to the entire facility.
Architectural noise control was part of the AVANT scope, which included recommendations relating to the construction of walls, floors, ceilings, glazing, doorways, roof, and other design considerations pertaining to the establishment of suitable noise reduction between adjacent spaces. This included all aspects of mechanical rooms, exterior of the building and interior spaces plus the selection of operable partitions. And as shown in the photo, a book handling system which needed noise control design.
AUDIO-VISUAL CONSULTING & DESIGN
AVANT provided Audio-Visual system design, which involved detailed design of the Audio-Visual presentation, sound reinforcement, public address, and digital signage systems as determined in the needs assessment and programming phases. David Wetzel offered his expertise here as well.
Jill Elmers, our Audio-visual design expert enjoyed the challenge of creating a presentation space at the front of the library to accommodate book readings, author visits, and some performances. "This was a nice change from my usual scope of working for more utilitarian government and military projects," explained Elmers, who spends most of her design and consulting time in that vertical.
AVANT made audio-visual presentation and sound reinforcement systems for all of the common spaces, multiple conference rooms of all sizes as well as staff meeting spaces highlighted by an audio-visual presentation system and audio playback system for the children's program room.
Lastly, AVANT provided construction administration and system commissioning to ensure that the AV and sound reinforcement systems were procured, installed, and configured according to the plans and specifications. Senior Associates David Wetzel and Andrew VonFeldt were involved in this process. Commissioning includes final system tests and adjustments; equalization of the audio-visual systems, and instruction of the library personnel in the proper operation of the systems.
This project was another rewarding collaboration with our friends at Hollis + Miller Architects in Kansas City, as well as Mission Electronics, the AV systems contractor who has teamed up with AVANT ACOUSTICS on several other Johnson County (Kansas) library projects.
If you have a project in need of acoustical consulting, sound and video system design, construction administration, and/or commissioning, AVANT Acoustics is here for you. We have over 50 years of experience and are confident we can help with any project. Call us at 913-888-9111 or contact us online today.